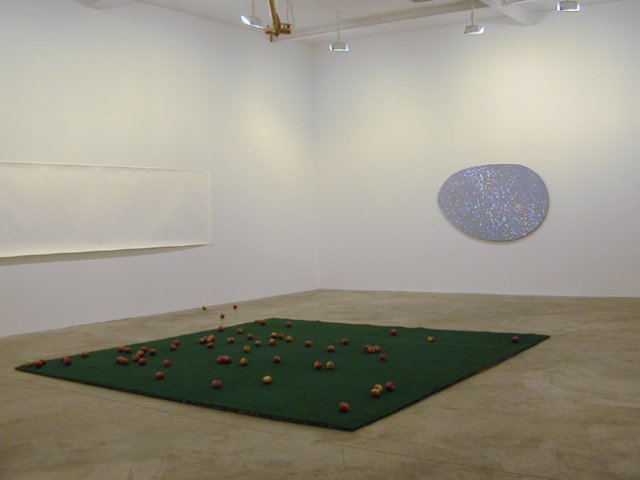 installation view

press release:
November 18 - December 23, 2000
SPENCER FINCH
"Up"
For his show at Postmasters Gallery, Spencer Finch presents new work
that deals with everybody's favorite direction "Upî. Employing a wide variety
of materials and techniques "ranging from rhinestones to Tang to falling
applesî the work probes some of the great mysteries of the universe: color,
light, gravity, time, space, and the odor inside an airborne Airbus 340.
Among the works in the exhibition are extremely specific but unconventional
representations of the sky over Roswell, New Mexico and of water stains on
the ceiling above the artist's bed.
This exhibition marks a continuation of Finch's exploration of the gaps
between objectivity and subjectivity as well as his fascination with science
and its limits. In work that is alternately playful, poetic, and absurd,
Finch examines what it means to see and to construct meaning in contemporary
life.
Postmasters Gallery, located in Chelsea at 459 West 19th Street
(corner of 10th Avenue), is open Tuesday through Saturday 11 to 6 pm.
Please contact Magdalena Sawon with any questions.
e-mail: postmasters@thing.net or magda@thing.net

reviews:
Voice Choices Shortlist/Art
The Village Voice, December 5, 2000
SPENCER FINCH
Watch out for falling apples in this
buoyant investigation of the conceptual lightness of
meaning, titled "Up." No element is extraneous as
Finch, a cerebral absurdist, draws the winds, paints an
airplane smell, or parses a stain on his bedroom
ceiling four ways. He re-creates the sky over Roswell,
New Mexico, in rhinestones (shaped like his field of
vision) and paints the Milky Way with Tang. His
19-foot-long Self Portrait in Time and Space
From Age 0-37 stretches from a star 37 light-years
away to the iris of his eye. Blue, an installation of
lightbulb molecules precisely matching the cobalt,
titanium oxide, and ultramarine sky over Los Alamos
last May 5, is best. THROUGH DECEMBER 23,
Postmasters, 459 West 19th Street,
727-3323. (Levin)

images of artworks in the exhibition: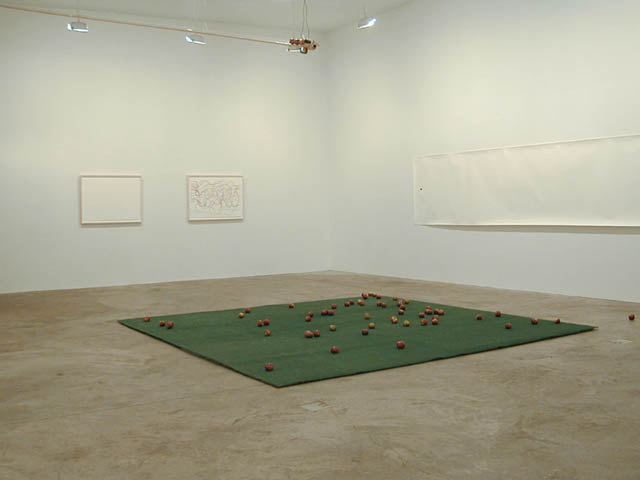 Composition in Red and Green, 2000
apples, astroturf, electronic motors, mixed media, variable dimensions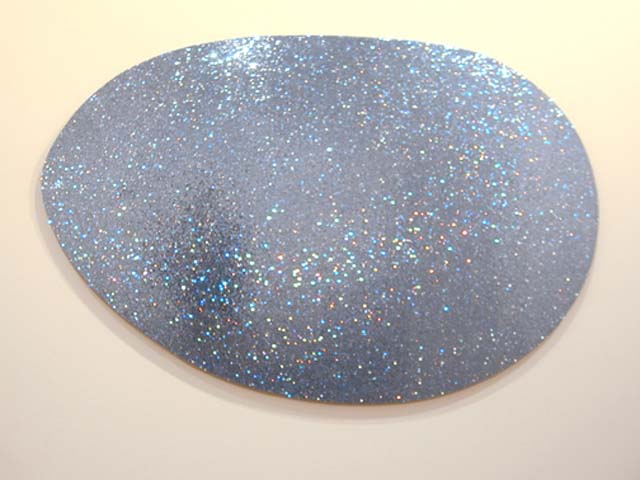 Sky (Over Roswell, New Mexico, 5/5/00, dusk), 2000
rhinestones and acrylic on aluminum panel, 48" x 72"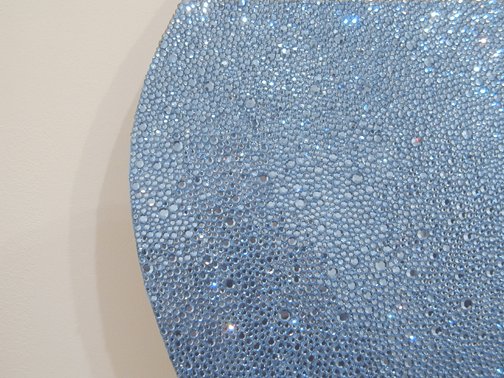 Sky (Over Roswell, New Mexico, 5/5/00, dusk), 2000
rhinestones and acrylic on aluminum panel, 48" x 72" (closeup)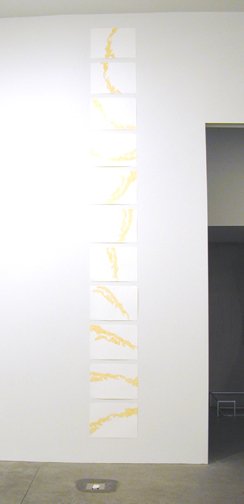 The Milky Way, 2000
Tang on paper, series of 12, 13" x 18"each

biography:
SPENCER FINCH
Born New Haven, CT 1962
Lives and works in New York.
EDUCATION
Rhode Island School of Design Providence, RI M.F.A. in Sculpture 1989
Hamilton College Clinton, NY B.A. in Comparative Literature 1985
Doshisha University Kyoto, Japan 1983-1984
SOLO EXHIBITIONS
2000 "Up"; Postmasters Gallery, New York
1999 Bildhuset, Stockholm
1998 "Wandering lost upon the mountains of our choice"; Postmasters, New York
Galleri Andreas Brandström, Stockholm
1997 "Periscope"; Artnode, Stockholm
Matrix Gallery, Wadsworth Atheneum, Hartford
1996 Postmasters Gallery, New York
Gallery Roger Björkholmen, Stockholm
1995 Collective Gallery, Edinburgh
Gallery Adlercreutz-Björkholmen, Stockholm
Postmasters Gallery New York
1994 Nordanstad Gallery New York
1993 Real Art Ways Hartford, CT Literal Truth (with Paul Ramirez)
1992 Tomoko Liguori Gallery New York
SELECTED GROUP EXHIBITIONS
2000 "Art on Paper"; Weatherspoon Art Gallery, Greensboro, NC
"Full Serve"; curated by Kenny Schachter, 547 W. 27th Street, New York
"Made You Look!"; Austin Museum of Art-Laguna Gloria, Austin, TX
"The Sea & The Sky"; Beaver College Art Gallery, Glenside, PA, Royal Hibernian Academy, Dublin, Ireland
1999 "Eye Spy"; Contemporary Arts Museum, Houston, TX
"Conceptual Art as Neurobiological Praxis, Threadwaxing Space, New York
"Paradise 8";, Exit Art, New York
1998 "Sensaround"; Pamela Auchincloss Gallery, New York
1997 "Onomatopeiaî, curated by Anthony Iannacci, Studio La Citta, Verona
1996 "A Scattering Matrix"; curated by Jane Hart, Richard Heller Gallery, Santa Monica
"The Charles Carpenter Collection"; Carnegie Museum of Art, Pittsburgh, The Whitney Museum of American Art, New York
"Between the Acts"; C/O Gallery, Oslo, Ice Box, Athens
"Clarity"; curated by Grant Samuelsen, NIU Art Museum Gallery, Chicago
"Between the Acts"; Ice Box, Athens
1995 Nordanstad Gallery, New York
Center For the Arts San Francisco, Four Views From Earth
1994 The Aldrich Museum of Contemporary Art Ridgefield, CT Promising Suspects
Sandra Gering Gallery New York, Part II
Exhibition Hall Mánes Prague, Czech Republic The Cave of Making
SMArt Fair Stockholm, Sweden
1993 Tomoko Liguori Gallery New York, Things you can't remember/Things you can't forget
Nordanstad Gallery New York, TracesÖ
Washburn Gallery New York, A Collectorís Choice
Sandra Gering Gallery New York, add Hot Water
Tomoko Liguori Gallery New York, New Prints and Multiples
1992 Nordanstad-Skarstedt booth Cologne, Germany Unfair
Postmasters Gallery, New York, Morality Cafe curated by Kenny Schachter
Four Walls Brooklyn, NY Vacation Show
142 Greene Street New York, NY Unlearning curated by Kenny Schachter
1991 Home For Contemporary Theater and Art New York, NY Home for June
BACA Downtown, Brooklyn, NY From Sculpture curated by Kenny Schachter
1990 BACA Downtown, Brooklyn
1989 Langston Hughes Center for the Arts, Providence, RI
1989 Sol Koffler Gallery Providence, RI with Paul Ramirez
1988 Sol Koffler Gallery Providence, RI
PUBLIC PROJECTS/PERFORMANCES
1996 The Gramercy International Contemporary Art Fair, Apples and Oranges with Paul Ramirez Jonas
1993 Real Art Ways Hartford, CT Applesauce with Paul Ramirez Jonas
1992 Jack Tilton Gallery New York, NY Telephone with Paul Ramirez Jonas
1991 Masterpieces Without the Director (sponsored by Creative Time) New York, audio tour of the Metropolitan Museum of Art with Paul Ramirez Jonas
142 Greene Street New York, Enemies of Promise with Paul Ramirez Jonas
1990 Dixon Place New York, NY The Death of Anton Webern
The New York Aquarium at Coney Island, Brooklyn, 45 Questions About Water, participatory mural project
1989 Rhode Island Public Transit Authority, Bus Shelter Design
Brown University, Providence, RI, Containment with Paul Ramirez Jonas
Benefit Street Post Office, Providence, RI, Book Smelling with Paul Ramirez Jonas
1988 Providence, RI, Twinkie Smashing
BIBILIOGRAPHY
Saul Anton, "Spencer Finch"; Art & Text, May 1999
Thad Ziolkowski, "Spencer Finch"; Artforum, April 1999
Peter Rostovsky, "Spencer Finch; Blind Manís Bluff";, Zing Magazine, Spring 1999
Merge , magazine project for issue #0, 1998
Owen McNally, "The Elusive Image"; The Hartford Courant, May 25, 1997
Patricia Rosoff, "Perception Colors Everything"; The Hartford Advocate"; May 1, 1997
James Rondeau, "Spencer Finchî, catalogue essay, Martix Gallery, Wadsworth Atheneum, May 1997.
Judith Findlay, "Spencer Finch"; review, Flash Art, November/December 1995
Mel Gooding, "Sense and Sensibility"; Art Monthly, October 1995
The List, 25 August?7 Sept, 1995
Clare Flowers, The Scotsman, August 28, 1995
Stephanie Cash, Art in America, November 1995
Aris Fioretos, Kris (Sweden) Finchís Disregard February 1995
William Zimmer, The New York Times In RidgefieldÖ December 18, 1994
The Hartford Courant, Arts, October 17, 1993
Kim Levin, The Village Voice Choice March 23, 1993
Grace Glueck, The New York Observer, Gallery Watch September 23, 1992
Kim Levin, The Village Voice Art in Brief October 27, 1992
Robert Mahoney, Arts New York in Review March 1992
Nikkei Image (Japan) Climate Forecast December 1992
Robert Atkins, The Village Voice Scene And Heard October 1, 1991
Glenn Collins, The New York Times Making an Art of the Met Tour Sept. 26, 1991
Joanna Molloy, The New York Post Page Six June 5, 1991
The New Yorker, Goings on About Town, Answering Art July 7, 1991