EDDO STERN
Vietnam Romance
June 6 - July 18, 2015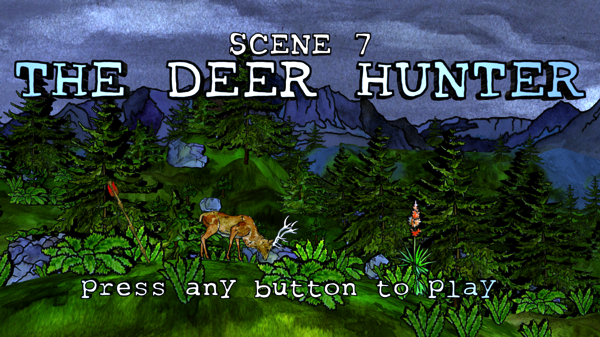 Postmasters Gallery is pleased to present a monumental installation of Eddo Stern's video game.
Vietnam Romance, recreates and interrogates the fictionalized history of the Vietnam War and its culturally commodified remains through a mash-up of cultural artifacts drawn primarily from Hollywood film culture as well as war literature, comic books, popular music, collectable war memorabilia, and adventure tourist packages.

Vietnam Romance is a tour of nostalgia for romantics and Deathmatch veterans pitting tourists vs. adventurers, history vs. its fantasies, and games vs. cinema. Film critic Ed Halter, described a film version of the project as exploring "a peculiarly American memory-trip, one in which the legacy of a gruesome war has become indistinguishable from pleasurable, if mythic-tragic, entertainments."

At Postmasters, the project is presented as a multiscreen projection-mapped installation. The presentation alternates between a computer generated panoramic tour through a Fantastical Vietnam created on the fly from online data scraped from tourist information sites, google maps, Ebay war memorabilia listings, top of the charts music archives, and a Vietnam movie database of characters, actors and extras. In the gallery, Vietnam Romance can be experienced either as a playable computer game or as a generative animation. The imagery in the game is created entirely from Eddo Stern's watercolor paintings processed into 3D models.

The game includes these playable vignettes:
Scene 1: FORTUNATE SON
Scene 2: MOJAVE
Scene 3: APACHE
Scene 4: IN COUNTRY
Scene 5 : THESE BOOTS ARE MADE FOR WALKING
Scene 6: THE TRACKS OF MY TEARS
Scene 7: THE DEER HUNTER
Scene 8: THE LUNCH LADY
Scene 9: HO-CHI-MINH TO HANOI


SPECIAL EVENT: Sunday June 7 - Live show at Babycastles

In conjunction with the show, on Sunday June 7, 8:00-11:00pm a one-night-only live dinner-theatre-game-performance will be presented at Babycastles gallery-arcade. The show will involve acting and live improv, multiplayer gameplay, tournaments, dinner, music, collectable cards, dancing, and stage sets. Featuring Lucas Near-Verbrugghe in person as Viet Rom Agent and cooking by Thu Tran (of IFC's Food Party).

Limited spots available, for more information and ticketing: www.facebook.com/events/1615685785370320/


Vietnam Romance was created by Eddo Stern with thanks to Vietnam Romance development team members: Steven Amrhein (jack-of-all(!)-trades), Nicholas Crockett (much code), Lucas Near-Verbrugghe (acting), Louis Pham (vietnamese translation) and Jessica Hutchins (co-writing).