SALLY SMART - The Choreography of Cutting (The Pedagogical Puppet Projects) @Postmasters: January 30 - March 19, 2016
SALLY SMART
The Choreography of Cutting (The Pedagogical Puppet Projects)

January 30 - March 19, 2016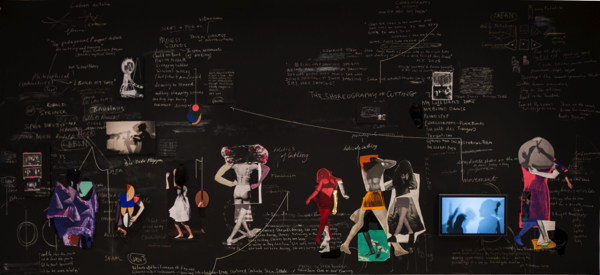 Postmasters Gallery presents The Choreography of Cutting, an exhibition by Australian artist Sally Smart developed from her series The Pedagogical Puppet Projects (2012-16). The exhibition will be the artist's fourth solo show in New York.

Sally Smart (b.1960) - one of Australia's most significant contemporary artists - is recognized for her large cut-out assemblage installations and increasingly her use of performance and video.

Sally Smart's The Pedagogical Puppet Projects (2012-16), a series of installations, collages, paintings, performance and video works, grew from her 2012 Sackler Fellow residency at the University of Connecticut, Storrs, USA.

The Pedagogical Puppet Projects explored the conceptual and formal intersections of her practice through ideas and images of identity and politics, representations of the body, and making new work with the themes of dance choreography, shadow puppets and puppetry, psychology and cutting, blackboard drawing, and early Modernist performance (assemblages, costumes and puppets) she describes as performance artefacts.

The Choreography of Cutting (2014-16) sees an escalation of her interest in spatiality and the nature of creative process, and how it relates conceptually to the blackboard in combining writing and drawing, thinking and movement. Smart creates large installations of black (blackboard) and white (screen) walls. In The Choreography of Cutting Smart looks to dance history, including her interest in Martha Graham and Pina Bausch, as well as early 20th Century avante garde performance and Sergei Diaghilev's Ballets Russes. In the immense 30 foot long black wall installation for Postmasters, Smart uses fragments of dance choreography, found dance documentation (degraded photographs), video and dance costume assemblages combined into an immersive choreographic dance lesson.

Postmasters' exhibition will also premiere new assemblage embroideries created from digitally cutting up photographs of costumes designed by avante garde artists of early modernism (Henri Matisse, Sonia Delaunay, Natalia Goncharova and Mikael Larionov), for the Ballets Russes. Smart's initial inspiration for this group of works came from learning that costumes of the Ballets Russes were often literally cut-up for resizing and economy.

Smart took to making her own versions of the costume by reconstituting fragmented images into new compositions rendered two dimensionally, and pinned (her familiar methodology) to the gallery wall. Her intervention in the embroidery assemblage, literally with sculptural elements and text, abstractly and psychologically suggest artefacts of performance and the trace of a body (in history, in culture.)

The embroideries were developed while on residency in Yogyakarta, Indonesia. Living in South East Asia Smart is perfectly situated to work with artisans and to conceptually explore her interest in shadow puppets through the wayang kulit tradition too.

This heightened her awareness of the Ballets Russes influence of the East on their Western representation (Orientalism). Smart was able to develop her assemblage costume cut-ups, with embroidery interpretation made by Indonesian artisans.

Sally Smart exhibits regularly throughout the world. A recipient of numerous awards and prizes, Smart has been a Sackler Fellow Artist-in-Residence in the Art and Art History department of the University of Connecticut 2012, received an Australia Council Fellowship 2012-14, is currently a Senior Fellow at the School of Art, VCA & MCM, The University of Melbourne and was awarded a major public art commission, 2012 -2014, Shadow Trees, Buluk Park, Melbourne, Australia. Sally Smart is currently exhibiting in a two person survey exhibition with the Indonesian artist Entang Wiharso, the collaborative project Conversation: Endless Acts in Human History, is exhibited at the Galeri Nasional Indonesia in Jakarta (2016).


Sally Smart
The Choreography of Cutting (The Pedagogical Puppet Projects)
2016
Installation View
Sally Smart
The Choreography of Cutting (The Pedagogical Puppet Projects)
2016
Installation View
Sally Smart
The Choreography of Cutting (The Pedagogical Puppet Projects)
2016
Installation View
Sally Smart
The Choreography of Cutting (Performance)
2016
mixed media installation
dimensions vary
Sally Smart
The Pedagogical Puppet Instructions for Cutting and Tearing (Scissors)
2015
inkjet print on canvas
20 x 30 inches
edition 5 + 2 AP
Sally Smart
Black Board #1 (Skirting)
2015
inkjet print on canvas
20 x 30 inches
edition 5 + 2 AP


Sally Smart
Assemblage Embroidery #2
2015 - 2016
synthetic thread and collage elements
50 x 48 inches
Sally Smart
Assemblage Embroidery #3
2015 - 2016
synthetic thread and collage elements
dimensions vary
Sally Smart
Assemblage Embroidery #4 (Yellow Chout)
2015 - 2016
synthetic thread and collage elements
46 x 32 inches
Sally Smart
Assemblage Embroidery #5 (Sonia)
2015 - 2016
synthetic thread and collage elements
43 x 40 inches
Sally Smart
Assemblage Embroidery #6 (Buffoon)
2015 - 2016
synthetic thread and collage elements
46 x 30.5 inches
Sally Smart
Assemblage Embroidery #7
2015 - 2016
synthetic thread and collage elements
46 x 30.5 inches
Sally Smart
Horse Craft (Blue)
2015
synthetic thread and collage elements
64 x 54 inches
Sally Smart
Performance (Jogja)
2015 - 2016
collage assemblage mixed media on canvas fabric
10.8 x 10 feet