Vincent Shine
Individual Exhibit
1991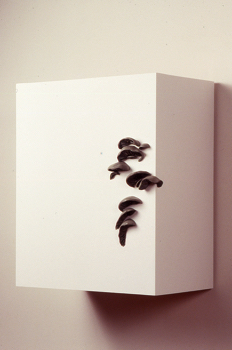 An exhibition of works by Vincent Shine will be on view at Postmasters Gallery, 80 Greene St., New York City, from May 17 through June 15, 1991

This show will be Shine's second solo show in New York. He has recently had solo shows in Los Angeles, Chicago, and London.

This exhibition of new sculptures presents Vincent Shine's continuing interest in the relationship between an objects and its informational aspects. The pieces in this exhibit use images of fungi. As in the past, the images are intended to evoke emotional responses and a sense of nostalgia.

The current work represents a more subtle development of Shine's tromp l'soeil flora. The previous body of work (exact representations of plants such as papyrus, mulberry, and duckweed) primarily relied upon composition, scale, and a shift of context to engage the viewer, exploring the audience's relationship between a memory of reality and an image of reality.

The new work takes this investigation one step further. Working from written descriptions of black and white renderings, the pieces are exact copies of a variety of species of fungi. They appear as if modeled in plasticine clay and are positioned on traditional gallery pedestals, which function as hosts. However, the clay models present only part of the information of the original images. The remaining information, color and value, is specified only in the form of a text that is incorporated in the titles of each piece.

Postmasters Gallery is open Tuesday through Saturday, 11 a.m. - 6 p.m.
For more information please contact Magdalena Sawon at (212) 941-5711.