RAFAËL ROZENDAAL
Don't Do Too Much
January 12 - February 23, 2019

<![if !supportLineBreakNewLine]>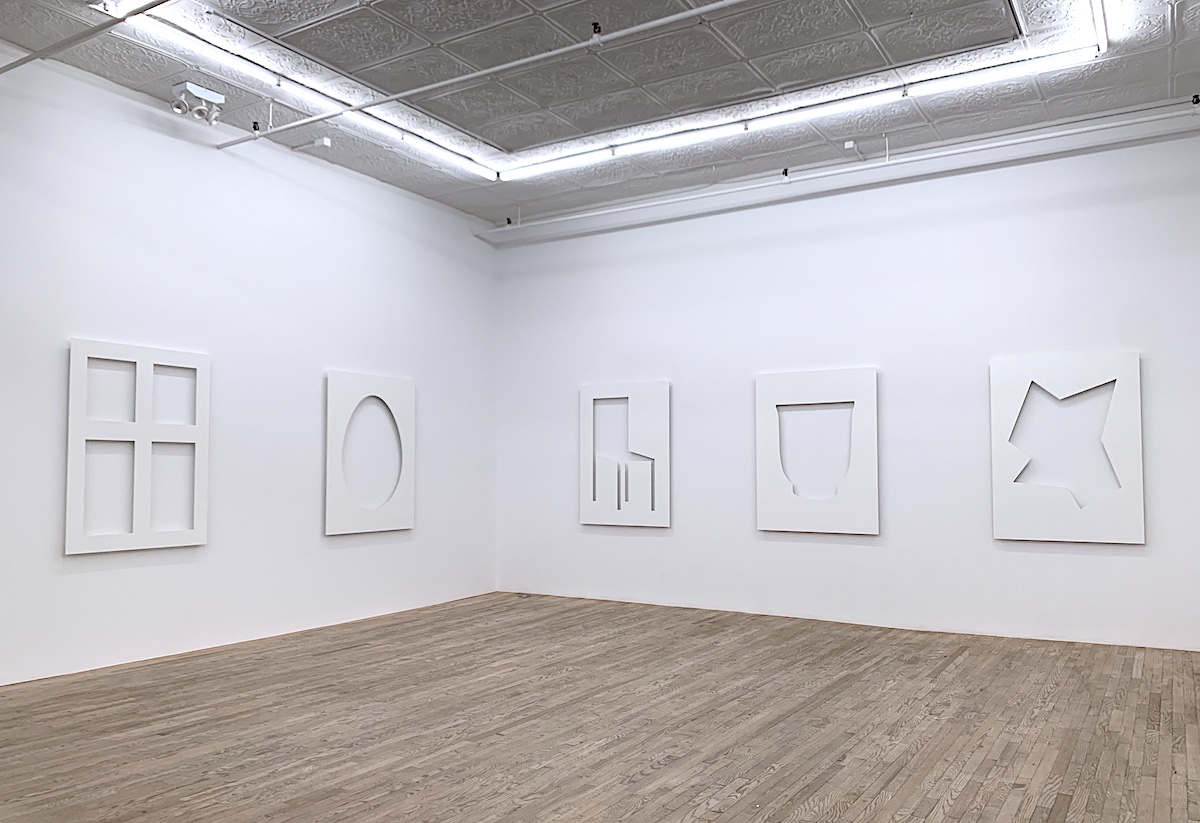 i don't really work with materials... i don't code, i don't print, i don't weave, i don't paint, i don't draw.....like most people, i'm glued to my screen. it feels like i never work, it feels more like waiting. the work appears and then i wait again, for the next one.
- RafaŽl Rozendaal

Postmasters is pleased to announce RafaŽl Rozendaal's fourth solo exhibition with the gallery. His most recent series of works are shadow objects of deceptive simplicity that fluctuate between an image and an object, a drawing and a sculpture. In what can be considered the shortest path from digital to physical, Rozendaal creates shapes which are coded to be cut by computer out of rectangular plates of white steel.

To Joseph Kosuth's One and Three Chairs (1965) canonical trinity of language, picture, and referent, Rozendaal proposes a fourth element of meaning: the virtual. These are man-conceived, machine-made objects, where a line of code cuts a line in metal, becoming a line frozen in the material world, but also a void. This void, the negative of the shape, is activated by light; the shadow cast on the wall defines the image of an object that is not there. Rozendaal's new works mirror the digital realm, where drop-shadows lend the illusion of presence and form to immaterial, virtual objects. And where graphics software facilitates instant inversion, toggling between mask and background, object and absence. These contemplative voids and the shadow objects they create counter the cacophony and information overload of online life.

RafaŽl Rozendaal (b. 1980, Netherlands) is Dutch-Brazilian artist who uses the internet as his canvas and as his studio. His websites attract 40 million visits per year. His practice also consists of installations, lenticular paintings, tapestries, drawings, writings, lectures, and a podcast. He is the creator of BYOB (Bring Your Own Beamer), an open source DIY curatorial format. Most recently (2018) Generosity, Rozendaal's solo exhibition, took place at Towada Art Museum in Japan. His work is currently included in Programmed at the Whitney Museum of American Art and in a show of recent acquisitions at the Stedelijk Museum on Amsterdam. RafaŽl Rozendaal's first major monograph Everything, Always, Everywhere was published in 2017 by Valiz, Amsterdam.






RafaŽl Rozendaal
Don't Do Too Much

installation view



RafaŽl Rozendaal
Shadow Object 18 09 07
2018
steel
41.5 x 57 inches (105 x 145 cm)



RafaŽl Rozendaal
Shadow Object 18 09 08
2018
steel
43 x 57 inches (109 x 145 cm)



RafaŽl Rozendaal
Shadow Object 18 09 02
2018
steel
30.5 x 57 inches (78 x 145 cm)



RafaŽl Rozendaal
Don't Do Too Much

installation view



RafaŽl Rozendaal
Shadow Object 18 09 11
2018
steel
41.5 x 57 inches (105 x 145 cm)



RafaŽl Rozendaal
Shadow Object 18 09 04
2018
steel
43.4 x 57 inches (110 x 145 cm)



RafaŽl Rozendaal
Shadow Object 18 09 05
2018
steel
41.5 x 57 inches (105 x 145 cm)



RafaŽl Rozendaal
Don't Do Too Much

installation view



RafaŽl Rozendaal
Shadow Object 18 09 12
2018
steel
41.5 x 57 inches (105 x 145 cm)



RafaŽl Rozendaal
Shadow Object 18 09 06
2018
steel
36 x 57 inches (92 x 145 cm)



RafaŽl Rozendaal
Shadow Object 18 09 03
2018
steel
41.5 x 57 inches (105 x 145 cm)



RafaŽl Rozendaal
Don't Do Too Much

installation view



RafaŽl Rozendaal
Shadow Object 18 09 09
2018
steel
41.5 x 57 inches (105 x 145 cm)



RafaŽl Rozendaal
Shadow Object 18 09 01
2018
steel
41.5 x 57 inches (105 x 145 cm)



RafaŽl Rozendaal
Shadow Object 18 09 10
2018
steel
41.5 x 57 inches (105 x 145 cm)