Joy and Revolution
BEREAU OF UNIVERSE TECHNOLOGY | KEN FENIGOLD | NATALIE JEREMIJENKO | PAUL JOHNSON | ROBERT HECKES | PERRY HOBERMAN | JOHN KLIMA | KRISTIN LUCAS | JENNIFER AND KEVIN MCCOY | MACIEJ WISNIEWSKI
June 8 - July 20, 2002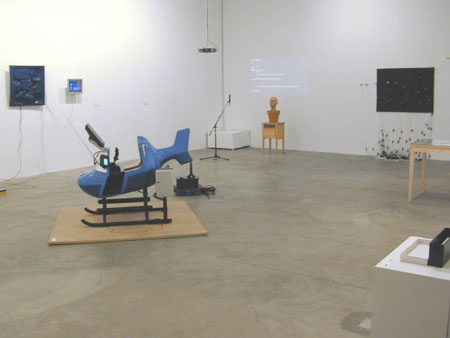 Joy and Revolution, 2002. Installation view.
Postmasters Gallery is pleased to present Joy and Revolution — a group exhibition of works in varied media from paintings to networked installations which address the effect of new technologies on information and entertainment cultures.

In Joy and Revolution the artists explore artificial intelligence, computer games and kiddie rides, database creation, iconography of the internet, collection, processing and interface of information, paranatural phenomenons, animatronic butterflies, gps, unmanned spy rockets, 3D vision, and other issues relevant to 2002 reality.

An experience not to be missed, Joy and Revolution brings art up to date.


---
KEN FEINGOLD
Sinking Feeling, 2001
silicone, pigments, fiberglass, steel, wood, electronics 15" x 18" x 52"

Ken Feingold's sculptures are literally capable of carrying on conversations. Written with his original forms of software (which he likes to call "artificial pseudo intelligence") Feingold's listening and speaking animatronic heads are digitally and pneumatically activated lifelike silicone portraits which hear and understand english speech.

The conversations are neither completely scripted, nor are they random; rather, the software creates a "personality", a vocabulary, associative habits, obsessions, and other peculiarities, which make the conversations quirky, surprising, and often hilarious. Sinking Feeling (2001) is a single head, quite convinced of its own existence, but desperate to know "Why don't I have a body like everyone else?" or "How did I get here, what am I doing here?" The "cognition" of this figure is made visible in a projection - the ones who speak with it literally see both their own words as they are heard by the figure, and in the formulation of a reply, something of the head's "thought process".

JENNIFER AND KEVIN McCOY
How I Learned, 2002
mixed media sculpture with electronics 56 x 36 x 7 inches, edition of 4 + AP (2/4)

Jennifer and Kevin McCoy explore the ways in which computers extend our perception of narrative. They interpret mainstream visual culture from the pre-digital era by cross-referencing and reconstituting the original material into a non-linear repository of content available, much like all computer data, for selective viewing and manipulation.

Beginning with Every Shot, Every Episode (2000) which transformed 20 episodes of "Starsky and Hutch" into an inventory of 300 categories, the McCoys have developed a distinctive practice that brings the languages and techniques of digital production and Internet culture to the worlds of film and television viewing. In their work, the database is a collection of not only facts and files but also of more slippery ideas of genre, stereotypes, relationships, and representational techniques.

How I Learned inventories the 70's "eastern western" television series "Kung Fu". Here, the McCoys create a visual and sculptural database of television images that reveal life's lessons learned from years of TV watching. The categories, subdivided into four sections - Religion, Nature and Society, Capitalism and Violence, and Filmmaking - include "how I learned about ceremonies," "how I learned about blocking punches," "how I learned about exploiting workers," "how I learned to love the land."

KRISTIN LUCAS
Encounters of WTC-kind, 2000-2002
single channel video, 7 minutes 28 seconds

Kristin Lucas has been using ghosts as a metaphor to increase awareness and discussion around the 'invisible': as we live with more surveillance in our lives, we perform more self-editing and assumption of rules — how this effects our behaviour and genetates compromises and contradictions that we are increasingly complacent with.

Encounters of the WTC-kind is a multi-disciplinary, ongoing investigation (Summer 2000 to present) into the culture of ghosts and waveforms residing in the World Trade Center building environment. Encounters of the WTC-kindconsists of a single channel video and an ongoing web project.

The video component of "Encounters of the WTC-kind" resulted from onlocation interviews with two first-time visitors, a former temp worker, anda DJ of the airwaves at the World Trade Center.

The web component of Encounters of the WTC-kind consists of transcribed interviews, images, a questionnaire, stories from residents and visitors, and comments received through the site's email form. URL: http://www.invisibleinhabitants.com

"Assuming that occupants of the spirit world and waveforms such as electronic transmissions exist in a shared and invisible space as 'ghosts', is it not possible that they are actively in communication with one another, capable of building strategies, and carrying forth actions?"

Kristin Lucas was a resident of World Views, a studio program organized by Thundergulch and LMCC (Lower Manhattan Cultural Council), over the May through October 2000 session. Encounters of the WTC-kind was shot in Fall 2000 and completed Spring 2002.

PAUL JOHNSON
Red, Green and Blue v.2.O, 2002
networked game consoles, 30" x 18' x 9"

This installation is comprised of three distinct video games which play "against" each other.

The "Green" game console runs a game in which a boy and his sister compete with dogs for survival in a landfill. "Blue" is an urban puzzle of macromanagement. "Red" is a simulation flight of the Mars global surveyor satellite.

In addition to maintaining its own world, the game consoles aquire resources from each other over an internal network. The revenue and food generated by scavenging the landfill, for example, might be translated into "Blue"'s urban budget... whereas the global surveyor may "steal" the city's "happiness rating" or spending in order to improve itself. In short, the games draw on each other in a way which is not immediately apparent. Over time the games will negotiate a relationship of their own making; a relationship that even I,the programmer, cannot anticipate.

Paul Johnson (www.pauljohnson.com)

NATALIE JEREMIJENKO
Robotic Butterfies , 2001
62 dead butterflies generating complex patterns, pins, coupled electronics, Nitonol shape memory alloy 'muscle' wire, rubber 80" x 80" x 5" [Flap, the animatronic butterfly kit is available on biotechhobbyist.org site] [butterfly pattern simulation software (perlin) forthcoming]

The Butterfly Effect: on manufacturing tornados, tautologies and types.

The butterfly effect is emblematic in the popular imagination for new conceptions of causality, interdependency, and global interrelationships. These robotic butterflies literalize and reproduce and interrogate this effect.

Robotics is a long tradition of production that involves representing life as movement, creating 'lifelike' actions, and behavior with simple or complex mechanisms. However, in this project the robotic representation is juxtaposed with the use of the actual biological material of the wings. Both robotic and biological, these butterflies collapse two technoscientific genres. It is the conceit of biotechnology to use the material itself to represent the biology, for example, the use of a cell line, a clone or strands of rna. If these butterflies have any 'creepiness' about them this is the cultural distance at which we hold between the mechanistic and the material representations of life

This implementation of the butterflies runs on 70 identical circuits set to the same 4 second period, layering visual and dynamic pattern. The global patterns that propagate through the flock represent the accretion of small indeterminacy of high precision mass manufactured electronic parts. Other implementations use voltage dependent period cycles which pull the butterflies back into synchronicity, while indeterminacy and current draw drives them away. The dynamic patterns that emerge drift and resynchronizing over days and weeks as if a deterministic clock.

Simultaneously the website runs a simulation of the robotic butterflies. These virtual butterflies also accrete differences in the more controlled context of a computational simulation but develop pattern nonetheless, radically different from the robotic butterflies, and asking which representation has more veracity?

Our understandings of complexity are based on simulations of non repeatable events that call into question the idea of experiment and evidence in techno-scientific representations. The patterns of these robotic butterflies insist on representing complex phenomena and interrelationships as 'beyond predication and control, but not beyond intelligibility.

MACIEJ WISNIEWSKI
Instant Messaging, 2002
two networked computers with custom software, 13" flat panel screens each

This installation introduces a new kind of networked concept: an expandable distributed environment.

Instant Messaging is inhabited by many 'characters', which in its current version are a group of tsetse flies. The 'characters' have individual properties and are aware of others in their field of vision. They exchange information by communicating essentially through instant messaging. Each character sends out information about itself to all others it can see and changes behavior influenced by the messages it receives from others.

The "space", the scene, in this version, is defined by two computer screens, three sides of each are closed but the flies freely move from one screen to the other through a "joint edge". They can also become 'airborne'. Depending on the number of networked locations and the number of screens/computers in a location, the 'space' can be resized, expanded to include all screens as a continuous space and the 'characters' will move freely from one to an other and communicate across them. The properties, behaviors of each character are defined by the artist.

The installation proposes a new self-generating ever changing—never repeating narrative where a reality, a social landscape is created by a large group of 'actors' interacting in a self-organizing manner. Each 'actor' is an active participant communicating with, influencing and being influenced by others within its close environment, creating a dynamic evolving narrative. When installed in several locations, the installation creates a parallel community/network of viewers that experience the same narrative playing out but observe it from the point of view of 'their' slice of the virtual space
John Klima
Epilogue (The Greatest Game)
2002
kiddie ride, computer, TV, wireless audio transmission, and software
64 x 64 x 48 inches
John Klima
Epilogue (The Greatest Game) (detail)
2002
kiddie ride, computer, TV, wireless audio transmission, and software
64 x 64 x 48 inches
John Klima
Serbian Skylight - Bombs dropped on Serbia March 24 to April 26, 1999 Data culled from DOD Press Briefings
1999
plastic sheeting, scrapwood, computer, 3-D rendering software
30 x 40 x 90 inches
John Klima
Serbian Skylight - Bombs dropped on Serbia March 24 to April 26, 1999 Data culled from DOD Press Briefings (detail)
1999
plastic sheeting, scrapwood, computer, 3-D rendering software
30 x 40 x 90 inches
Natalie Jeremijenko
Robotic Butterflies
2002
62 dead butterflies generating complex patterns, pins, coupled electronics, Nitonol shape memory alloy 'muscle' wire, rubber
80 x 80 x 5 inches
[Flap, the animatronic butterfly kit is available on biotechhobbyist.org site] [butterfly pattern simulation software (perlin)
Natalie Jeremijenko
Robotic Butterflies (detail)
2002
62 dead butterflies generating complex patterns, pins, coupled electronics, Nitonol shape memory alloy 'muscle' wire, rubber
80 x 80 x 5 inches
[Flap, the animatronic butterfly kit is available on biotechhobbyist.org site] [butterfly pattern simulation software (perlin)
Bereau of Universe Technology
Weapons for the Information Age: Bit Cab
2002
Adrunner GPS taxi based advertising system, hotpants display, ledgraffiti font, gigs and census derived data
Bereau of Universe Technology
Weapons for the Information Age: Bit Rocket
2002
kit rocket[E engines] and parachute, video camera/transmitter, head counting software, public demonstration, anticamoflage visibilty finish, floor projection
52 x 78 inches kit/instructions
Paul Johnson
Red, Green and Blue v.2.O
2002
networked game consoles
30 x 18 x 9 inches
Paul Johnson
Red, Green and Blue v.2.O (detail of red)
2002
networked game consoles
30 x 18 x 9 inches
Paul Johnson
Red, Green and Blue v.2.O (detail)
2002
networked game consoles
30 x 18 x 9 inches
Kristin Lucas
Mousepad Drawings (series of 15)
1999
ink on paper under glas, wooden table
52 x 29 x 31 inches
Kristin Lucas
Mousepad Drawings (series of 15) (detail)
1999
ink on paper under glas, wooden table
52 x 29 x 31 inches
Ken Fenigold
Sinking Feeling
2001
silicone, pigments, fiberglass, steel, wood, electronics
15 x 18 x 52 inches
Perry Hoberman
Point of Purchase
2002
3D installation w/3D viewers
dimensions variable
Rober Heckes
*all are acrylic on canvas* (top to bottom)

Beautiful Domains
2002
12 x 80 inches

Gaming Daze
2002
12 x 80 inches

ETRADE - Lautrec
2002
12 x 80 inches

Game Winners
2002
18 x 84 inches

Star Wars Pop
2001
12 x 84 inches