PERRY HOBERMAN
Accept

January 7 - February 9, 2003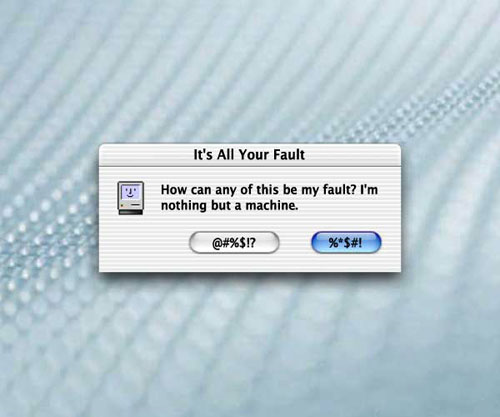 Postmasters Gallery is pleased to present an exhibition of new works by Perry Hoberman, an artist whose works we have shown since 1986. Hoberman is one of the pioneers of new media art, having addressed the form, content, and social implications of media technology for over twenty years. In this exhibition working in a mix of new and old media, Hoberman tackles one of our current dilemmas: in a world of ever-increasingly "powerful" media technologies, our own power to creatively make use these technologies is under constant threat on a variety of fronts. Restrictions and surveillance are being hard-coded into the hardware, software and networks we use daily in a process that seems determined to make us little more than fodder for an ever-more-profitable army of passive and fearful consumers.

Several works in the show satirize the endless attempts to price and profit from what has become known as "intellectual property" - a term that emphasizes ownership above all. One artwork begins to evaluate itself as soon as it snares a viewer, comparing its own effectiveness to other mediums (such as cinema), based on how much time is necessary for each experience. Another piece requires the viewer to accept a stringent End User License Agreement (standard texts required to install software) before she can look at the work

The prints in the series OK/Cancel are based on the ubiquitous dialog boxes that appear whenever we open, save, close, delete, or do anything at all with the files on our computers. These messages are some of the most direct communications between user and operating system, and although they often seem helpful, they tend towards a certain arrogance, making them ripe for satire. Each print is available in any of four different operating systems: Macintosh OS 9, Macintosh OS X, Microsoft Windows 98, and Microsoft Windows XP.

The prints comprising the series My Life in Spam consist of superimposed images of every spam email message that Hoberman received over a given period of time. Since deciding to save his spam in 1998, Hoberman has amassed an archive of approximately 6,000 useless, often offensive messages. Hoberman notes that the rate of spam has been increasing at a faster rate than computer processing power (defined by Moore's Law as doubling every 18 months) - the amount of spam he has received has tripled (on average) each year. He now receives more spam in a day than he received in three months in 1998, and at the current rate of increase expects to be receiving about 1,000 a day by the end of 2006. These prints function as a method to visualize the increasing onslaught of unsolicited advertising, but they're also an attempt to transform an utterly debased form of communication into something attractive, even beautiful. Depending on the dates and the length of time (a day, week or month) represented in each print, the images range from faint lines of partially legible text to intricate washes of intense color.

A series of multi-layered stereoscopic curtains consist of transparent mylar surfaces covered with enigmatic red/blue silhouettes. When seen through anaglyphic viewers (built into the works) the silhouettes appear to hover unsupported in the air. The silhouettes (of figures, animals and objects) combine to create free-form narrative moments. These low-tech works continue a longtime interest in stereoscopic and other optical phenomena, and in some ways represent a return to work that Hoberman made during the 1980s. In a more high-tech vein, a parallel screen-based work is shown on a Synthagram monitor, a recently-invented autostereoscopic display.

Several works deal with iconography of the All-Seeing Eye, recently repurposed as the symbol of John Poindexter's Total Information Awareness System, thus shifting its meaning from a suggestion of divine omniscence to a more earthbound ideal of total surveillance. In these artworks, various eyeballs attempt to see everything everywhere, with decidedly mixed results.

Perry Hoberman has exhibited internationally, with major shows throughout the USA and Europe. His work is currently on view in the Future Cinema exhibition at the ZKM Center for New Media in Karlsruhe. Hoberman has been the recipient of numerous grants and awards, and is both a 2002 Guggenheim Foundation Fellow and a 2002 Rockefeller Foundation Media Art Fellow.