CANYON CASTATOR
Pissing Match
January 6 — February 10, 2018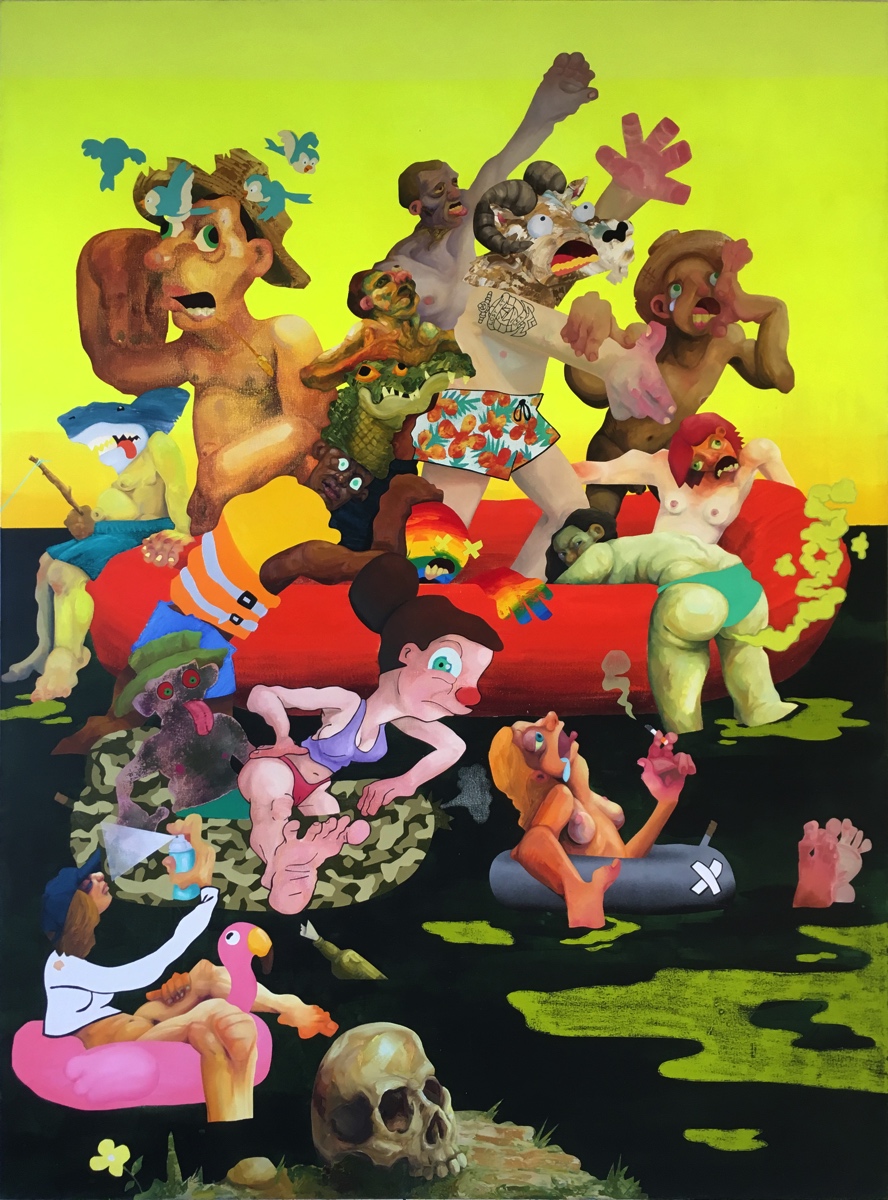 Canyon Castator, SOS, 2017. Oil on canvas. 96 x 72 inches.
"Debauchery is perhaps an act of despair in the face of infinity."
—Edmond de Goncourt, Pages from the Goncourt Journals


Postmasters will begin the New Year with Canyon Castator's debut solo show, Pissing Match. Both gallery spaces on Franklin Street are dedicated to the exhibition.

Castator's large-scale oil paintings bring us into a twisted version of today's social reality. Each is a gruesome, cartoon-like collage with graphically distorted figures, packed into vivid scenes of debauchery. By heightening what is already grotesque and salacious about party culture, substance abuse, harassment, and violence override the casual vice. The more disturbing the scenario, the more macabre its actors. This is a world of extremes, from the overloaded content to the work's strong narrative impulse to the bright and bold aesthetic that Castator never shies from.

Digital processes give the work its copy-paste quality. Preparatory drawings are executed on an iPad, where compositional elements can be readily resized, moved, deleted, or restored. Imagery is often culled from personal or found photos. Exuberant patterns and a melange of textures, whether they are superflat or perspectivally perfect, commingle with humor and ease.

Canyon Castator (b. 1989) is a Los Angeles-based painter. In 2013, he was invited to be a resident at the Kunstakademie Düsseldorf, where he studied with Tal R. He is originally from Boulder, Colorado.
Canyon Castator
Pissing Match
2018
installation view
Canyon Castator
Of course you know this means war
2017
oil on canvas
68 x 84 inches
Canyon Castator
SOS
2017
oil on canvas
96 x 72 inches
Canyon Castator
Boys Will Be Boys
2017
oil on canvas
68 x 90 inches
Canyon Castator
Deep End
2018
oil stick on Dura-Lar
114 x 193 inches
Canyon Castator
Pissing Match
2018
installation view
Canyon Castator
The Pillars of Society
2017
oil on canvas
84 x 66 inches
Canyon Castator
Bathroom Line
2017
oil on canvas
90 x 114 inches (overall)
Canyon Castator
The path forward will be covered in broken glass and chicken shit
2017
oil on canvas
72 x 96 inches
Canyon Castator
Pissing Match
2018
installation view
Canyon Castator
Butting heads with strays
2017
oil on canvas
80 x 80 inches
Canyon Castator
Cesspool
2017
oil on canvas
70 x 90 inches
Canyon Castator
Draft Dodgers
2017
oil on canvas
64 x 80 inches