MONICA COOK & YE QIN ZHU
Accumulations
May 19 – June 30, 2018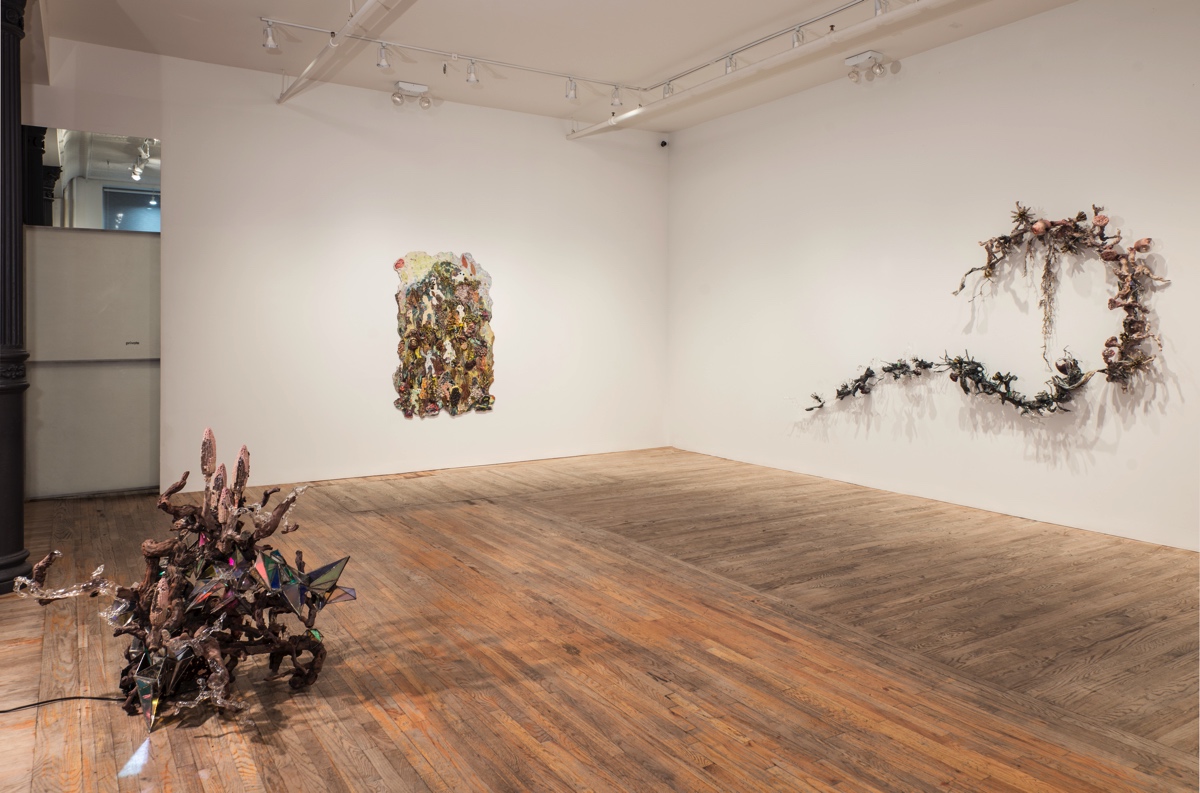 Installation view, Accumulations, May 19 - June 30, 2018
The whole is more than the sum of its parts. –Aristotle

Postmasters presents Accumulations, an exhibition of sculptural works by Monica Cook and Ye Qin Zhu. The two artists share a proclivity to employ and accumulate materials of almost any kind. Combining flora, fauna, detritus, craft supplies, and found objects, among more traditional media, Cook and Zhu treat matter with visceral consideration, and instill it with poetic formalism.

New works by Monica Cook highlight her attentiveness to the organic, as a concept and medium. Shards of glass and vintage gold-veined mirror coalesce with tree stumps and their roots. Desiccated branches flower with blown glass blossoms, glass globes, feathers, and starfish. Corn cobs are formal elements in an abstract painting as much as phallic figures or clouds. All of the biomaterial in these pieces are by definition dead, but Cook reanimates them with her dexterous, idiosyncratic sculptural sensibility.

Ye Qin Zhu's wall sculptures often begin with a multi-layered plywood surface, providing the substrate for dense and spiritual material accumulations. Peacock feathers, coyote teeth, glitter glue, glow-in-the-dark-stars, keyboard keys, electrical wiring, batteries, coral, crayons, beeswax, headphones — among hundreds of other objects, ranging from obscure to banal — are deeply personal to him, or simply compelling enough to collect. This is true of the mail and paperwork he uses for the pulp in his handmade paper, another foundational material to the work. Intently repurposing the meaningful yet arbitrary things that somehow come to define us, Zhu's works have undeniable psychic charge.

Monica Cook (b. 1974) lives and works in Brooklyn, New York. Her exhibitions have been featured in Art in America, Hi-Fructose Magazine, The New Yorker, The New York Times, The Village Voice, The Wall Street Journal, Whitehot Magazine, and many others. In 2012, she was an artist in residence at the Skowhegan School of Painting and Sculpture, and at the School of Visual Arts Studio Residency Program in 2004. She holds a BFA, summa cum laude, from the Savannah College of Art and Design, and is from Dalton, GA.

Ye Qin Zhu (b. 1986) was born in Taishan, China. He earned his BFA from The Cooper Union For The Advancement Of Science And Art in 2010. From 2014-2016, he was the director of Redwood Arts Studio, where he taught drawing and painting to the kids in the community he grew up in, Sunset Park, Brooklyn. In 2012, he co-founded Socotra Studio, a collaborative design and build studio. Zhu is the program coordinator at Art Palestine International (2008-2012; 2016-2017), a not-for-profit organization dedicated to exhibiting contemporary Palestinian art.


Monica Cook & Ye Qin Zhu
Accumulations
2018
installation view
Monica Cook & Ye Qin Zhu
Accumulations
2018
installation view
Monica Cook & Ye Qin Zhu
Accumulations
2018
installation view
Monica Cook & Ye Qin Zhu
Accumulations
2018
installation view
Monica Cook
Hydrilla Aerostar
2015
glass balls, gold leaf, gold powder, ground mica, aqua resin, acrylic, starfish, artificial foliage, pipe cleaner, wire, plastic grapes, glass globes, feathers, dried lotus pods and drift wood
80 x 80 inches
Monica Cook
Hydrilla Aerostar (detail)
2015
glass balls, gold leaf, gold powder, ground mica, aqua resin, acrylic, starfish, artificial foliage, pipe cleaner, wire, plastic grapes, glass globes, feathers, dried lotus pods and drift wood
80 x 80 inches
Monica Cook
Hydrilla Aerostar (detail)
2015
glass balls, gold leaf, gold powder, ground mica, aqua resin, acrylic, starfish, artificial foliage, pipe cleaner, wire, plastic grapes, glass globes, feathers, dried lotus pods and drift wood
80 x 80 inches
Monica Cook
Hanging Roots
2018
aqua resin, vintage gold veined mirror, glass, interference sheets, magnifying sheets, copper tape, solder, patina, gold leaf, silver leaf, magic sculpt, acrylic paint, window screen, screws, light weight modeling paste
48 x 49 x 8 inches
Monica Cook
Roots
2017-2018
aqua resin, steel, vintage gold veined mirror, glass, interference sheets, magnifying sheets, copper tape, solder, patina, gold leaf, silver leaf, magic sculpt, acrylic paint
52 x 48 x 28 inches
Monica Cook
Roots
2017-2018
aqua resin, steel, vintage gold veined mirror, glass, interference sheets, magnifying sheets, copper tape, solder, patina, gold leaf, silver leaf, magic sculpt, acrylic paint
52 x 48 x 28 inches
Monica Cook
Transmitter
2018
aqua resin, vintage gold veined mirror, blown glass, interference sheets, magnifying sheets, copper tape, solder, patina, gold leaf, silver leaf, magic sculpt, acrylic paint, neon, argon, wiring
45 x 42 x 48 inches
Ye Qin Zhu
Arriving at Something Other Than
2017
paper, checkbook, conk mushroom, mini cd, adhesive caulk, asphalt, beech dowels, Sky screen mount, ambrosia maple burl, 1/100 scale model people, furniture pad, crayon, screws, coral, plywood
17 x 21 x 7 inches
Ye Qin Zhu
Haunting The Hungry Ghost
2017
paper, asphalt, coyote teeth, braided lanyard, mushroom, steel plate, 9v battery, electronic parts, caulk, rock, dragonfly, model chickens, model moss, hot glue, silkworm cocoon, acrylic paint, oil paint, botanicals, plywood, pigment, bullet shells
30.5 x 25 inches
Ye Qin Zhu
Death Before Dying and Rebirth Before Death
2017
paper, moth, cicadas, beeswax, silicone, electrical wires, botanicals
21.5 x 23 inches
Ye Qin Zhu
Ascending and Descending a Mountain
2017
paper, beeswax, reishi mushrooms, milkweed seeds and pods, botanicals, acrylic paint, oil paint, iridescent film, dowels, hot glue, caulk, cork, rocks, watercolor, ink, pigment, tile, electronic parts, wires, plywood
73 x 46 inches
Ye Qin Zhu
As the Universe Grew
2018
paper, conductive copper tape, electrical wire, Sumi ink, model humans, ear plug, large safety pin, pieces of a keyboard, hot glue, chestnuts, acrylic paint, linen, decorative nails, steel plate, planer blades, self-hardening clay, caulk, string beans, reflector tape, glow-inthe-dark stars, PLA filament, matte medium, metal letter, skeleton leaves, bottle of mezcal, plastics, tangerines, shoe lace, jars
60 x 72 inches
Ye Qin Zhu
Each Ourselves Beyond
2018
paper, jars, rocks, air-dry modeling clay, Crayola clay, wood glue, pigment, sumi ink, lens, batteries, dried string beans, ceramic shards, toy horse leg, hot glue, glitter hot glue, grapefruit peel, pine cone, glass, incense sticks, Squishies donut, cardboard, park ranger pin, linen, and acrylic paint, plywood
44 x 32 inches
Ye Qin Zhu
Tall Grass Field
2017
paper, tangerines, rocks, baby shoe cushions, silicone, botanicals, electronic parts, pigment, wax, acrylic paint, EAP wires, peacock feather, oil paint, linen, headphones, plywood
39 x 30 inches